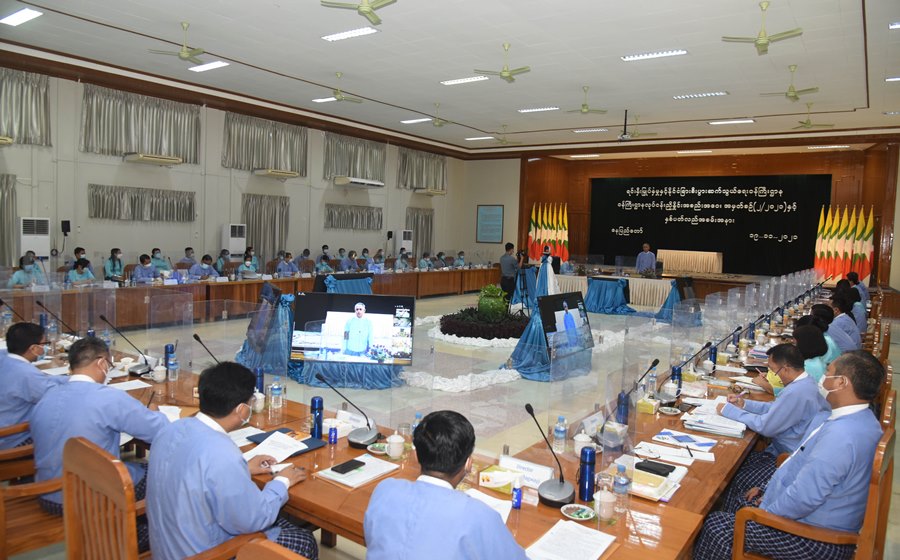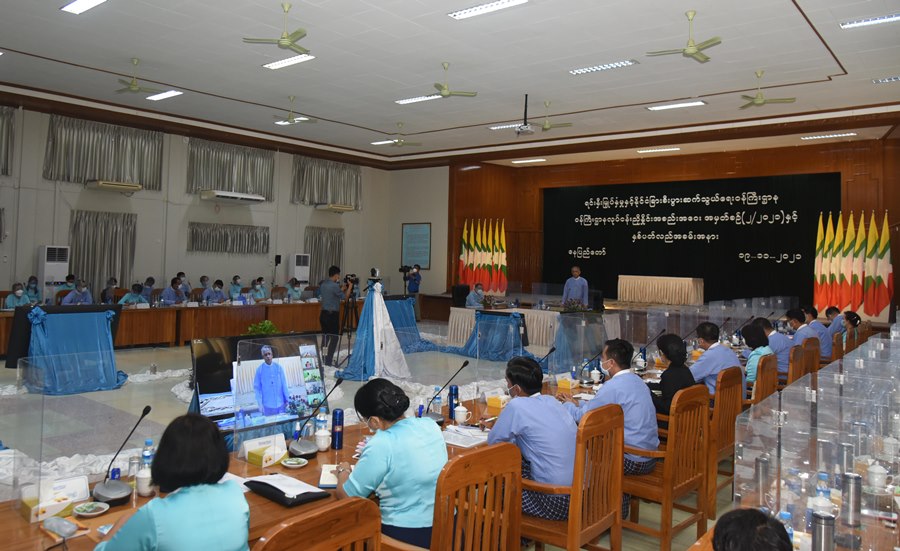 (Nay Pyi Taw, November 19)
The Second Coordination Meeting (2/2021) of the Ministry of Investment and Foreign Economic Relations (MIFER) was held at the Office of the Ministry of Investment and Foreign Economic Relations today morning.
The meeting aimed to enhance the investment promotion activities, to address the challenges encountered by each department under ministry in implementing their functions, to be harmonized the cooperation in the regional economic integration and the regional and national investment promotion activities.
In his opening remarks, Union Minister, U Aung Naing Oo underscored the crucial roles of investment promotion, facilitation and after care services to recover the Myanmar's economy affected by the COVID-19 pandemic and consequences of political instability. He evaluated the previous activities of ministry and highlighted the achievement and challenges when implementing ministry's mission in terms of investment promotion and facilitation and regional economic cooperation.
He urged the officials of ministry to make extensive efforts to achieve ministry target and goals when implementing the investment promotion plan, Myanmar Economic Recovery Plan and regional and sub-regional integration plans, and to protect the investment in accordance with Myanmar Investment law, rules and regulations. He also underlined to exercise the standard Operating Procedures (SOP) efficiently, and application of the more digital platforms. He stressed to encourage the citizen businesses by facilitating and providing necessary assistances.
 Afterward, U Than Aung Kyaw, Deputy Minister for the Investment and Foreign Economic Relations explained the detailed programs and coordination matters to be implemented and collaborated by the Ministry.
Dr. Wah Wah Maung, Permanent Secretary of the Ministry presented the on- going activities and future plans of the Ministry. Then, U Thant Sin Lwin, Director General of Directorate of Investment and Company Administration (DICA) and officials from State and Regional offices of Directorate of Investment and Company Administration (DICA) made presentations on the activities for investment promotion, facilitation and future plans for economic development of the State and Regions. Following this, Dr. Marlar Myo Nyunt , Director General of Foreign Economic Relations Department (FERD), reported the matters relating to the current departmental administrative functions, the regional economic cooperation with ASEAN and its dialogue partners, the cooperation with United Nations and international organizations, and the status of coordination  between the concerned government agencies and development partners regarding the development assistance projects.
After hearing the reports, the Union Minister coordinated and facilitated the requirements of the ministry and departments.
At the end of the meeting, Union Minister and Deputy Minister presented the best employee awards and the best performance awards for divisions.